"Look deep into nature, and then you will understand everything better."
Albert Einstein
Settled in the Finger Lakes Region of Central New York, Savannah Dhu is a truly unique and special property. You enter the Savannah Evergreen Preserve on "Attitude Adjustment Road" which meanders through wood and glade, skirting and crossing ponds in a leisurely, calming pace. Nature surrounds and delights you. The cares and concerns of the everyday world begin to slip away. You are in a different world now, a world "less traveled."
You may have to stop to let a deer pass by or pull over to appreciate the breathtaking view of Pines Lodge that has appeared in the distance. You pass a beautifully restored picket fence framing the 18th century guest house known as Hadden and cross several wooden bridges. With your windows down the scents and sounds of the preserve surround you. It is a totally unique experience – but it feels like coming home.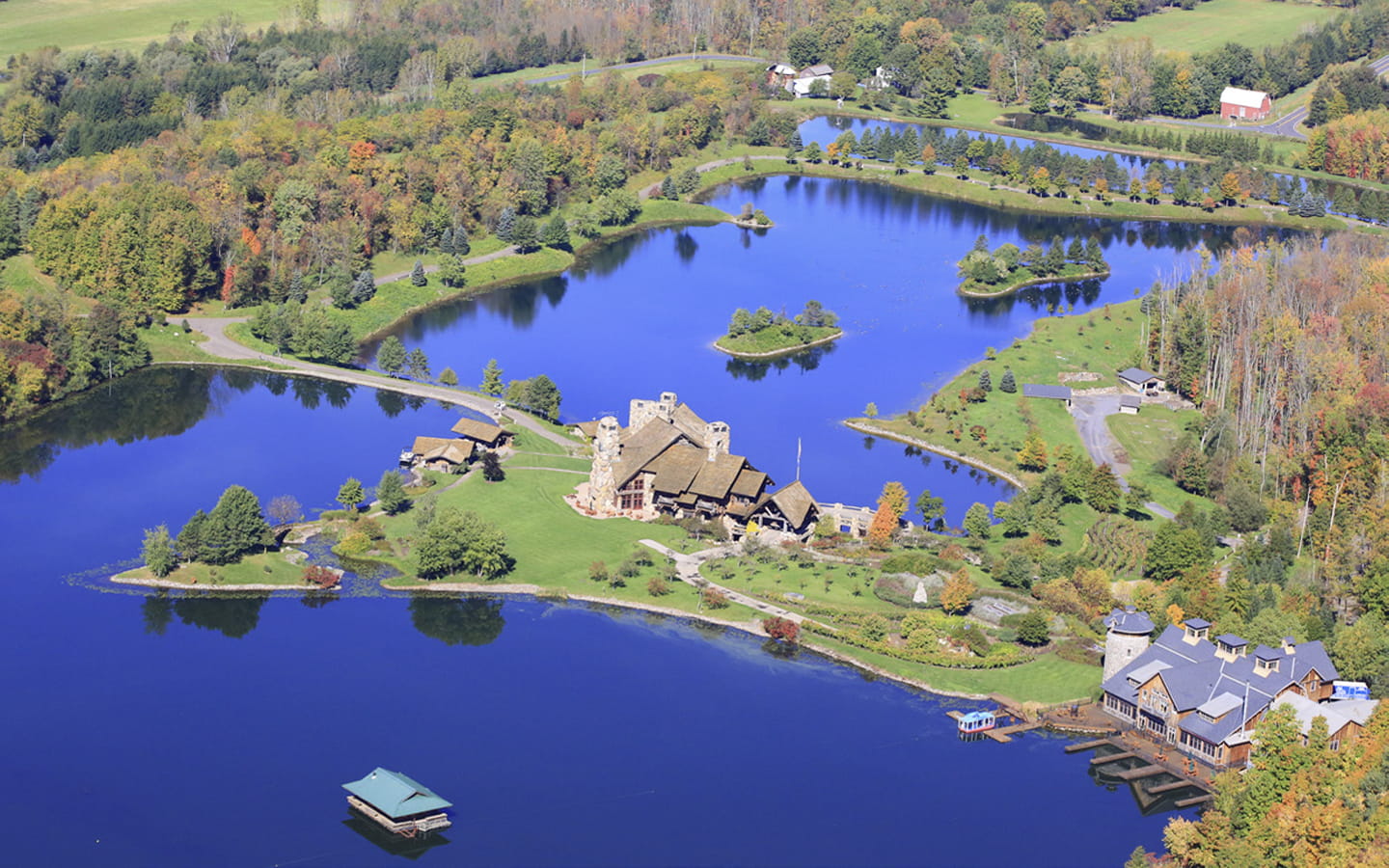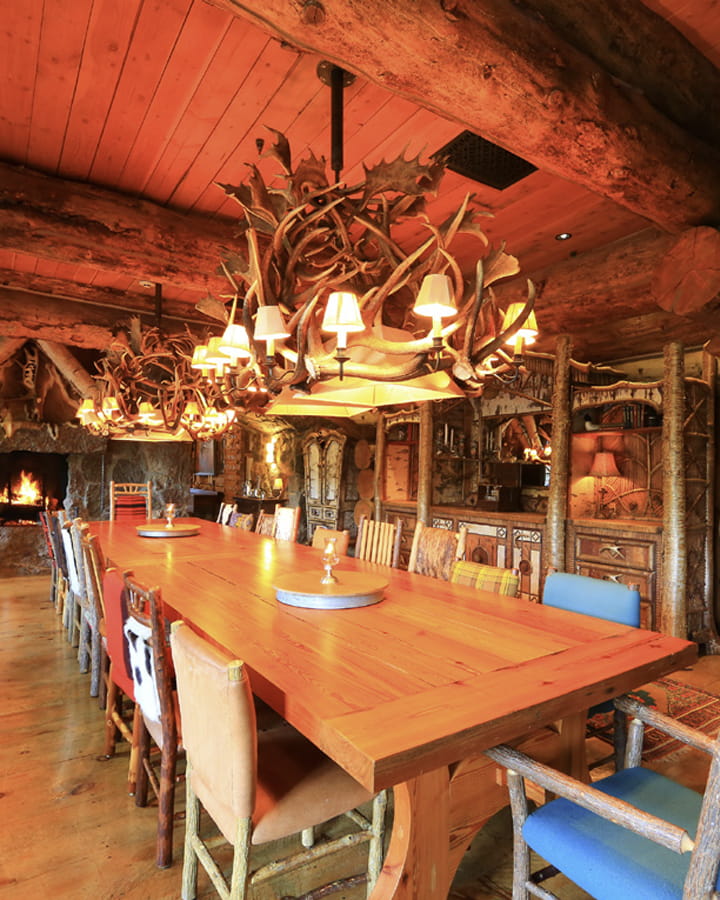 "In all things of nature there is something of the marvelous."
Aristotle
The Pines Lodge is one of the most complex and architecturally striking buildings of its kind in the world. When you first drive up to the lodge its massive size overwhelms the senses. The 350-year old Ingleman spruce logs that make up its walls are twenty inches in diameter and the vertical Douglas fir support logs are fifty-four inches in diameter. It took fifty-four tractor-trailers to transport the logs from Colorado. You enter the wide, antique doors into Pines Lodge with a sense of anticipation – expecting to feel insignificant within its cavernous bulk. But, the opposite happens and the lodge welcomes and embraces you.
As your exploration of Savannah Dhu progresses, you realize this is a special place, a place apart from the world you are used to. Yet, it is a comfortable place, a place that makes you feel at home. Whether for business or pleasure, Savannah Dhu encourages you to put your feet up and open your mind to the natural beauty around you and the future's unlimited possibilities.
"One touch of nature makes the whole world kin."
William Shakespeare
This late 1800's Pennsylvania-New York Dutch-style barn, with its shed roof extensions and silo, has eleven bedrooms accommodating 30 guests. An underground parking facility and serene meeting space are just some of the amenities. The main gathering hall and stateof-art kitchen are capable of accommodating up to 300 guests and is site of cooking classes, especially the culinary art of preparing wild game. The structure also contains a meat processing plant, a smoke house and a room for making maple syrup.
The magnificent facility was inspired by the need for a visionary space for international guests to meet, discuss and develop ways to enhance the world. Savannah Dhu is the ideal setting to work, play and relax. It is the perfect environment in which to nurture and develop grand ideas and explore the possibilities of what wonderful things the future holds.
"In every walk in with nature one receives far more than he seeks."
John Muir
Set high above the natural beauty and tranquility of the Preserve you look out upon passing deer, turkey, fox, and elk. Your mind becomes receptive to new ideas. You start to challenge conventional boundaries and explore uncharted possibilities. Discussion leads to meaningful intellectual exchanges on how to make the world a better place.
Each house is architecturally striking. The interiors are warm and cozy with tasteful furnishings, comfortable furniture, and powerful binoculars for wildlife close-ups. Electricity is provided via batteries charged by photoelectric panels on the roofs. They are heated by propane in the winter. During the November and December season, they become luxurious, world class hunting stands. The idyllic setting, design and comfort of the houses encourage creativity and innovation.
"Come forth into the light of things. Let nature be your teacher."
William Wordsworth
A large portion of the Savannah Dhu property is a managed wildlife preserve. In addition to the regions native game you will find elk, fallow deer, and Père David's deer that have been introduced to the landscape. The preserve has been very successful in its breeding programs, which result in exhilarating hunting excursions for all the guests.
The lakes, ponds, and streams of Savannah Dhu, offer bass, walleye, white bass, pike and tiger musky, to name a few. A 47 inch musky weighing in at 23 pounds was caught just off the shore next to Pines Lodge, which was parlayed into a gourmet meal worthy of the Dhu's 5-star restaurant and accommodations.
"Study nature, love nature, stay close to nature. It will never fail you."
Frank Lloyd Wright
All to often we see properties that boast "endless opportunity" this is one of the few properties you will see that can really deliver unlimited potential.
With thousands of acres this property has the ability to expand its usage while still maintaining the natural wildlife and beauty. Golf courses, corporate & educational retreats, or using this property as a private resort are just a few of the endless opportunities available. Here are a few of the other camps, houses and lodges included on this expansive property.
"One of the first conditions of happiness is that the link between Man and Nature shall not be broken."
Leo Tolstoy
Savannah Dhu is a place for people to gather, relax, celebrate and rejuvenate, but above all else it is an integral link between man and nature.
We have highlighted some of the best photos, features and lifestyle elements Savannah Dhu has to offer, as you can imagine with a property of this magnitude there is so much more to see.
Over 500,000 Evergreen and Deciduous Trees Planted since 1984
Thousands of Acres Mostly Fenced-in, Consisting of Almost 90 Individual Land Parcels
21 Intellectual Exchange Houses
Underground Parking Garage connects Pines Lodge and the Conference Barn
Farm to Table Gourmet Cusine
Hunting and Fishing Expeditions
Weddings and Family Events
International Conference Center
Wildlife and Nature Preserve
Corporate and Educational Retreats
Culinary Training Facility
Chandelier in the Great Room Created by Local Artist Weighs over 3,500 lbs
Expansive Wine Cellar and Tasting Room
Beams imported from Colorado and Utah
Custom Materials Sourced and Imported from Around the World
Large Waterfront Porch for Summer Dining and Relaxing
Entertain up to 300 for Formal Dinner
Constructed from 1,300 Solid, White Oak Timber Framing Pieces Held with Wooden Pegs
11 Bedrooms with Ensuite Baths
Complete Butcher Shop and Smokehouse
We all have a passion, we all have a dream. For some, it's about adventure. For others, it's about tranquility. Our dreams are as vast and varied as the world is wide but they all start with inspiration and inspiration starts with our surroundings.
It is our sincere pleasure to present one of the world's most significant properties. Savannah Dhu, located in the Finger Lakes Region of Central New York offers the finest luxury properties, amenities, national resources and experiences.
Home of the world's cleanest fresh water and air, Savannah Dhu exceeds the expectations of even the most discerning connoisseur of life's finest offerings.
For a private preview and discussion about an exclusive visit and tour of Savannah Dhu, please contact us directly. Price furnished upon qualified request only.
Sotheby's International Realty® is a licensed trademark to Sotheby's International Realty Affiliates, Inc. An Equal Opportunity Company. Equal Housing Opportunity. Each Office Is Independently Owned And Operated.